Taimur (Temur in Uzbek) was one of the most intelligent, powerful and ruthless rulers of his time.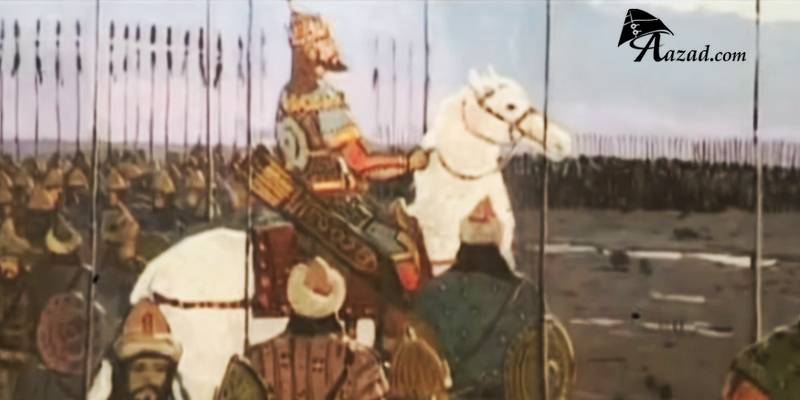 In 1398, Taimur (also spelt as Timur) invaded India with the aim of destroying the hindu kings and rulers. He was also opposed to the tolerance shown by the Muslim Sultans of Delhi towards their Hindu subordinates. Taimur started his journey with his powerful army from Samarkand, a city in Uzbekistan known for its mosques and mausoleums and located located on the Silk Road.
After crossing the Sindhu river, Taimur entered Punjab on September 24, 1398 and destroyed many villages and towns. He committed genocide in Punjab and with his powerful army, he marched forward unchallenged.
Prior to this invasion, Taimur's grandson Pir Mohd. had already started his expedition to India and had captured Uch (Punjab, Pakistan) and Multan (Pakistan). Taimur's grandson joined him and they together made a formidable force to reckon with.
Taimur marched forward with his troops and entered Delhi by crossing the Indus river. Sultan Nasir-ud-din Mahmood Tughluq of the Tughlaq dynasty could not do anything to resist Taimur and was easily defeated.
The next battle took place between the army of Mahmud Tughluq and Taimur in December 1398. Taimur completely routed the army of Mahmud Tughluq in Panipat.
Lakhs of Hindus were taken as prisoners before Taimur entered Delhi. To provide protection to the elephants in the war, Taimur made a defence camp with brushwood and trees, followed by huge stones, cattles and the Hindu women. His army were kept with the women prisoners, where they were tortured and raped. Before leaving for the battle, all of the 1 lakh men, who were supposed to be the infidels, were ordered to be killed brutally. These included both the Muslims and the Hindus. Taimur's conquest of India brought great devastation to the country. Taimur massacred many people, reduced cities to ruins and even after successful conquest of several places, his army continued the bloodshed and mayhem for many days. It is said that the army of Timur could not be brought under anyone's control and they went on killing, looting, plundering, and making prisoners.

After Delhi was conquered by Timur's army, few uproars took place by the people against the Turkic-Mongols. But, these led to more bloody massacre within the city. Timur destroyed the entire Delhi Sultanate and also the Tughlaq dynasty. It is said that Delhi took almost a century to recover and emerge again from this great loss.